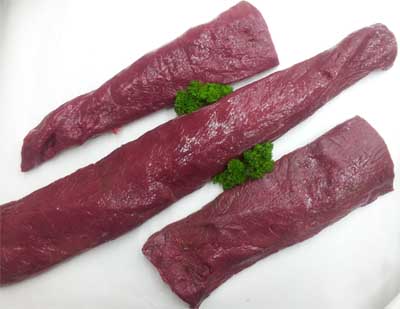 Fresh Venison – venison (deer meat) is a source of protein, zinc, iron and selenium. Venison has about one-third the fat of beef and is lower in calories.Venison can be used in a variety of recipes that would usually call for beef. The flavour is similar to beef, but with a touch of wildness to it. Not everyone likes that wild flavour of venison, but that flavour can be tamed down by cooking the venison in a non-fat chicken broth. Venison is a very popular meat when it comes to protein. Our cuts are:
• Venison Eye Fillet (pictured left)
• Tender Venison Trump Steaks
• Diced Venison Shoulder
• Whole Venison Rump
---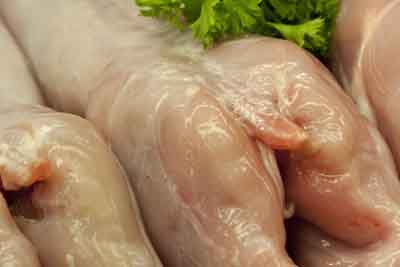 Whole Wild Rabbits – Wild Rabbits are all tested and certified by a government body to make sure they don't have and diseases or sickness. They are 100% clean. It makes the most amazing stew when it's been soaked in a white wine or vinegar overnight to tenderise. With plenty of liquid and vegetables just sit on the stove top for 3-4 hours on a very low heat.
---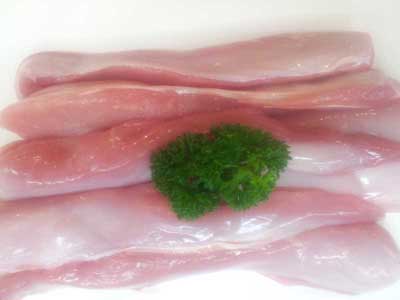 Wild Rabbit Fillets – Easy to pan fry. Just lightly flour them with a touch of salt and pepper and easily pan fry with some olive oil for 2 or 3 minutes
---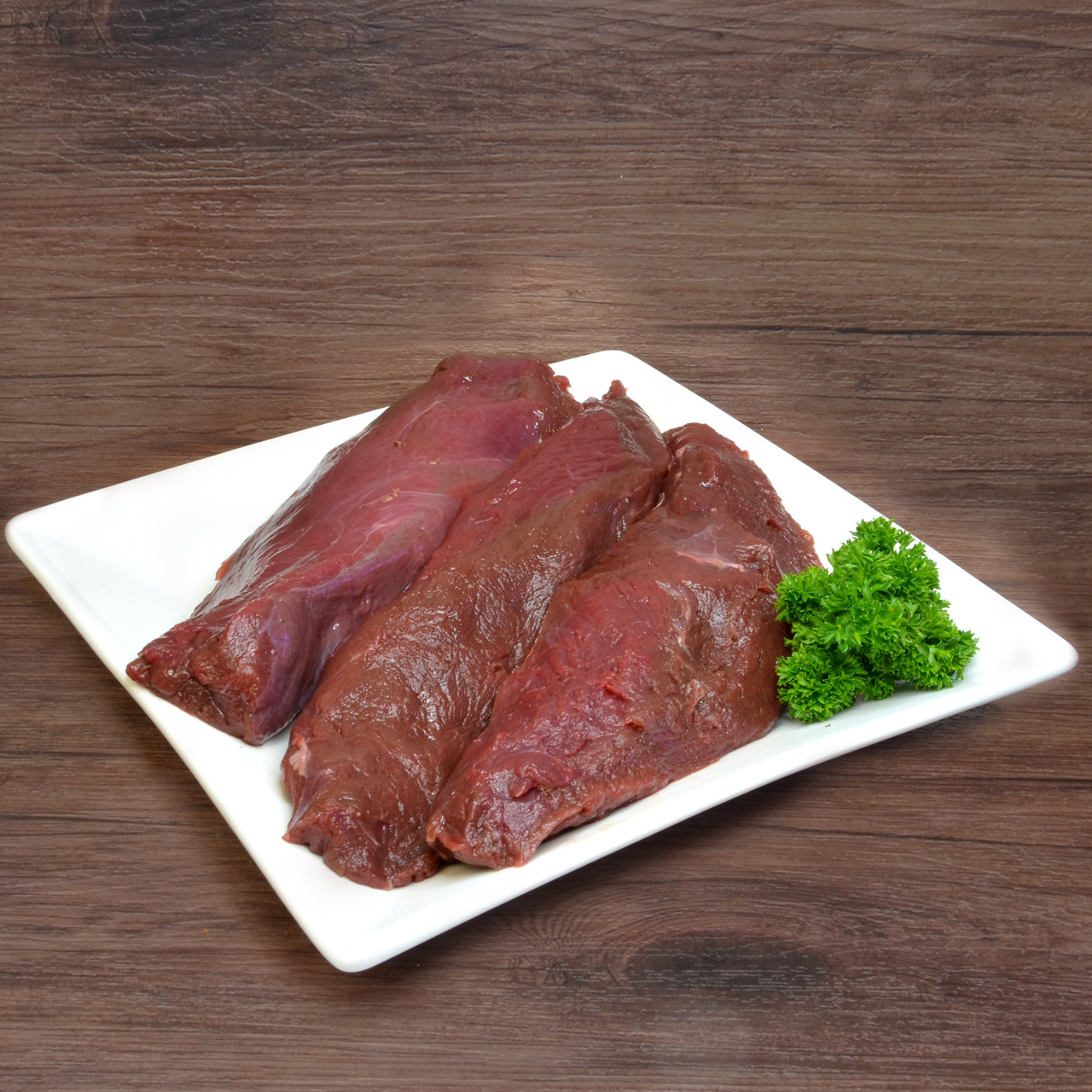 Kangaroo Loin Fillet – All our Kangaroo is 100% natural. Completely free from antibiotics, chemicals, growth hormones or any artificial intervention making kangaroo the ultimate free range meat! You can be assured that it is a safe meat to eat, processed to comply with strict Australian Standards. It's a terrific source of high-quality protein, low in total fat (with less than 2% fat).AT JOHN CESTERS POULTRY & GAME at the Prahran Market we only sell the best quality kangaroo, the pure loin fillet. Without any fat or sinew it looks and tastes immaculate. We have a marinated "Red Wine & Garlic" loin fillet or the plain loin fillet. Must not be over cooked or else it does toughen, on a very hot pan or hot plate with just a small amount of olive oil 2 minutes on each side and then let it rest for a further 2 minute. 2 MINUTE RULE!
---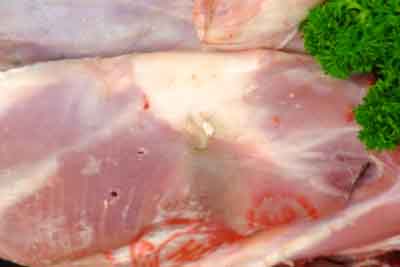 Milk Fed Baby Goat / Kid / Capretto – Our goats are the best in Melbourne because they are delivered fresh weekly from Gippsland. Goat is very similar to spring lamb but much sweeter, a tender meat when slow roasted it tends to melt off the bone. We have the following cuts:• Goat legs
• Goat shoulder
• Loin chops
• Racks
• Mini boneless roasts
---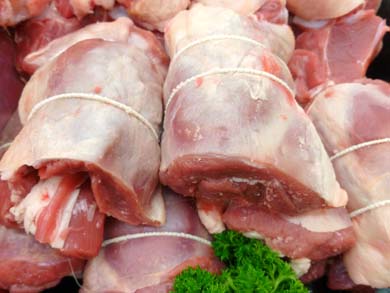 Milk Fed Baby Goat Mini Roasts
---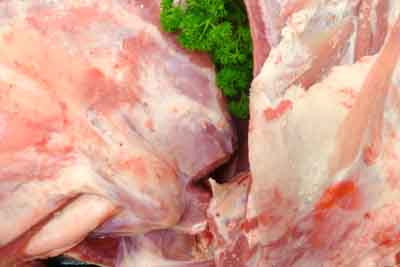 Milk Fed Baby Goat Shoulders
---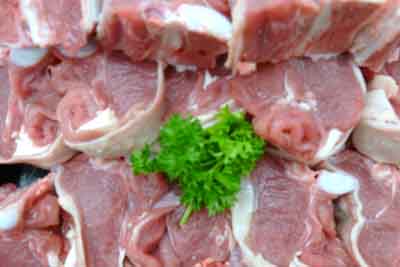 Milk Fed Baby Goat Mid Loin Chops
---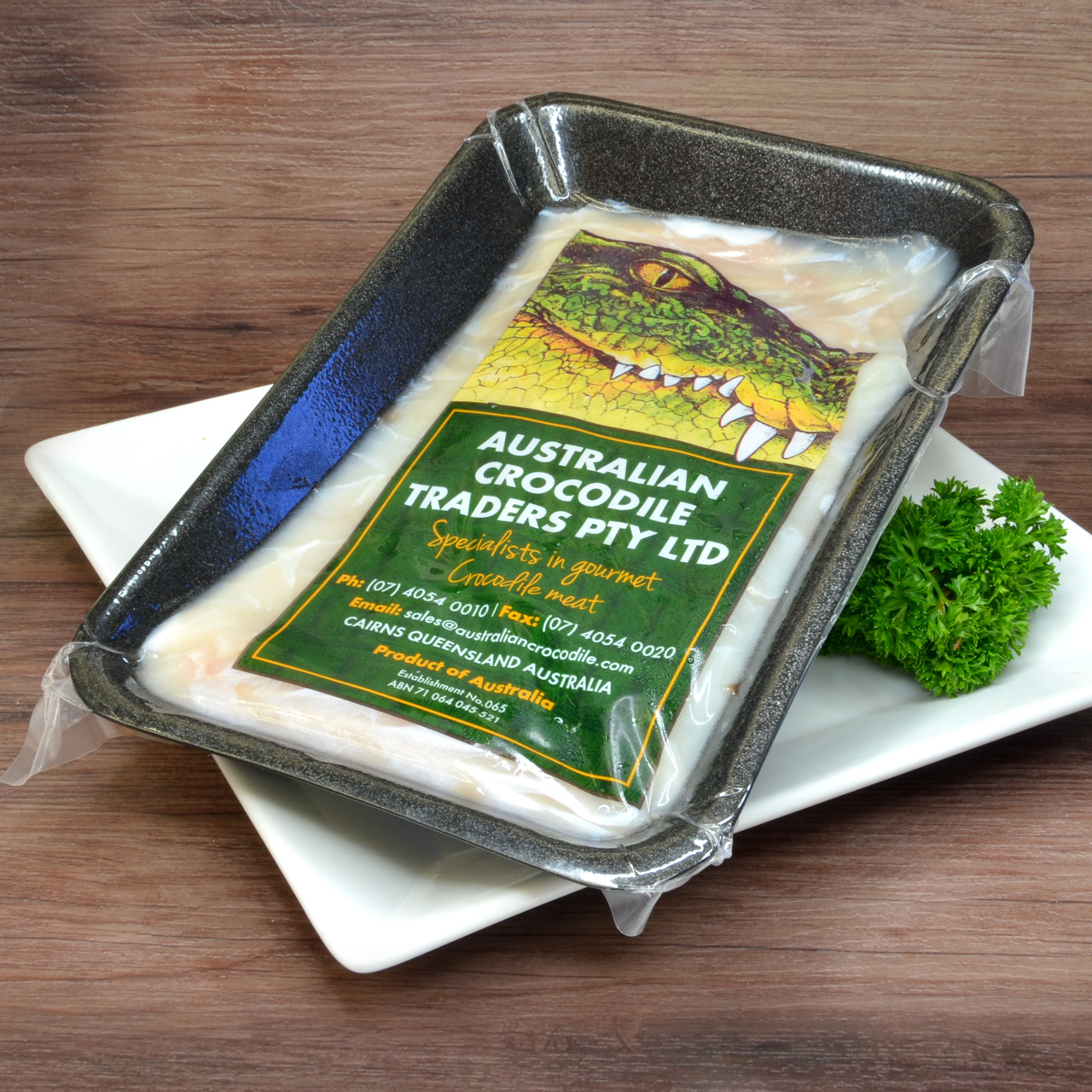 Crocodile Tail Fillet – This game meat is very rare and almost impossible to find. Looks very similar to fish but a texture of chicken. A high in protein meat that can be eaten medium to rare. Only suited to quickly pan fried.
---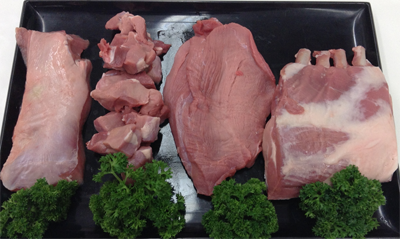 Wild Boar – eye fillet, diced boar, steak, rack of boar.
---