Ingredients:
400g Crocodile meat –  cut into 2 cm cubes
40 ml Orange Juice
200 ml Chicken Stock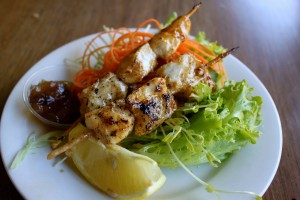 30 ml Honey
5 gm Ginger – grated
30 ml Macadamia Nut oil
10 gm corn flour
Salt and Pepperberry to taste
Method:
Thread meat onto bamboo skewers, place in flat dish, season with salt and pepperberry, pour orange juice over it and allow to marinate in the fridge for an hour.
Heat oil in a frying pan and sauté crocodile until cooked through, set aside and keep warm.
Combine residual orange juice, honey, ginger, chicken stock, and corn flour in a saucepan.
Bring to boil, reduce heat and simmer for 2 minutes.
Place skewers on plates and spoon sauce over.
(Fabulous Ladies Wine Society, 2013)