Rabbit in Riesling
prep time:
cook time:
total time:
serves: about 6 servings.
A mild dish, gently flavoured with fresh mixed herbs, rabbit in Riesling is simple, deeply nourishing and light. Don't have rabbit? Substitute chicken in this dish for an equally good, if less distinctive alternative.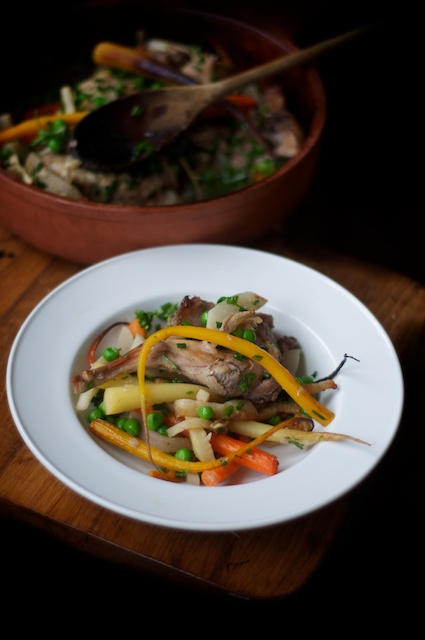 Ingredients
¼ cup butter, (preferably from grass-fed cows)
4 shallots, (peeled and finely minced)
1 whole rabbit, (2 – 3 lbs, 1 – 1½ kg, skinned, cleaned and cut up)
½ lb small young carrots, (scraped and trimmed of greens)
½ lb turnips, (peeled and cut into matchsticks)
¾ lb celeriac, (peeled and cut into matchsticks)
2 cups white wine, ( preferably Riesling)
1 cup fresh or frozen shelled English peas
1 cup chopped fresh herbs, (parsley, chives, thyme, chervil, mint etc.)
¼ cup fresh raw cream or crème fraïche
Instructions
Preheat the oven to 350 degrees Fahrenheit (175 Celsius).
Melt the butter in a skillet over a moderate flame until it foams. Toss in the shallots, frying until they release their perfume and turn translucent. Brown the rabbit pieces in the butter and shallots, about two minutes on each side.
Transfer the rabbit to a clay baker or Dutch oven, then toss carrots, turnips and celeriac into the skillet, frying until fragrant, about five or six minutes. Transfer vegetables to the clay baker or Dutch oven with browned rabbit pieces.
Pour wine into the clay baker or Dutch oven, then cover and bake at 350 degrees Fahrenheit (175 degress Celsius) for two and a half hours.
Remove the lid, stir in the peas. Replace the lid and continue cooking for an additional thirty minutes.
After the rabbit is cooked through, remove it from the oven and stir in chopped herbs and fresh cream.
Serve.