It's time to share an Italian inspired Game Meat recipe from one of our customers Charles from Cha's Kitchen!
INGREDIENTS
500g Wild Boar (Diced)
100g diced pancetta (rind removed)
1 brown onion finely chopped
2 large carrots finely chopped
2 celery sticks finely chopped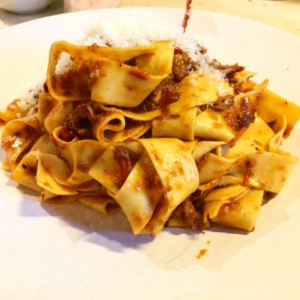 1L Vegetable stock
1 bottle dry white wine
800g cherry tomatoes
Parpadelle
Parmesan
METHOD
1. In a heavy based pan sweat off the onion, carrots and celery in olive oil over a low heat until they become translucent(very soft), don't allow them to get any colour. Remove from the heat and set aside.
2. In the same pan brown the boar and season with salt. Once browned well set aside.
3. add the pancetta and cook until the fat begins to render, set aside.
4. Deglaze the pan with the white wine and reduce.
5. Add the sofritto(celery, onion, carrot), boar and pancetta. Add the stock and simmer gently on a low heat for 3-4 hours.
6. In a separate pan, heat some olive oil and add the cherry tomatoes until they begin to break down. Add to the other pan and fold in. Continue to simmer for another hour.
7. That's it! Serve with parpadelle and some good Parmesan cheese.
(Chas's Kitchen, 2015)