Now that spring is nearly here, why not try some duck?
This is a recipe from on of our customers, celebrity chef Karen Martini
serves 6 mains
prep time 45mins (approx.)
total time 2hrs 15mins (approx.)
INGREDIENTS:
salt and pepper
20 chestnuts
60 ml extra virgin olive oil
1 brown onion, diced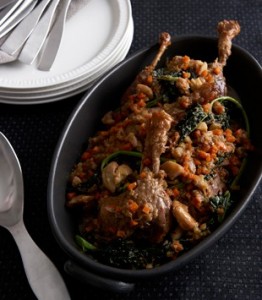 6 cloves garlic, peeled and sliced
1 bay leaf
4 mandarins, zested and juiced, plus extra mandarin segments for garnishing
2 leeks, finely sliced
2 medium carrots, finely diced
4 celery stalks, finely diced
5 sprigs thyme
300 ml verjuice
2 teaspoons allspice
approximately 1 litre chicken stock
1 bunch cavolo nero, washed and chopped
100 grams pasta per person
parmesan cheese, to serve
METHOD:
Preheat the oven to 220C.
Trim the duck marylands of excess fat and cut them into thigh and drumstick. Season the duck generously with salt and pepper. Roast the duck pieces on an oven rack for 15 minutes to render away some of the fat and turn the skin crisp and golden. Remove from the oven.
Score the chestnuts. Boil a pot of water and cook the chestnuts for 15 minutes. Remove one at a time and peel off both layers of skin. Slice and set aside.
In a large heavy-based pot, add the oil, onion, garlic, bay leaf and a little salt. Gently sweat over medium heat, then add the zest, leek, carrot and celery. Stir well then cook over medium heat for 15 minutes or until golden.
Add the thyme, duck, verjuice, mandarin juice and allspice and simmer for 5 minutes. Add enough stock to cover well and simmer for a further 40 minutes until the duck is about to fall off the bone.
Cook the pasta according to packet instructions, if using.
Remove the duck from the pot and add the cavolo nero. Continue cooking over medium heat for about 20 minutes, to cook the cavolo nero and reduce the sauce a little. Tear the duck meat from the bones while it's still warm, skin and all but no gristle, and return to the sauce.
Season the ragu with lots of pepper. Add the chestnuts and the cooked pasta or gnocchi, if using. Add some peeled mandarin rounds and offer parmesan cheese grated at the table.
Need to grab a few things? Why not shop online now – we can even deliver!