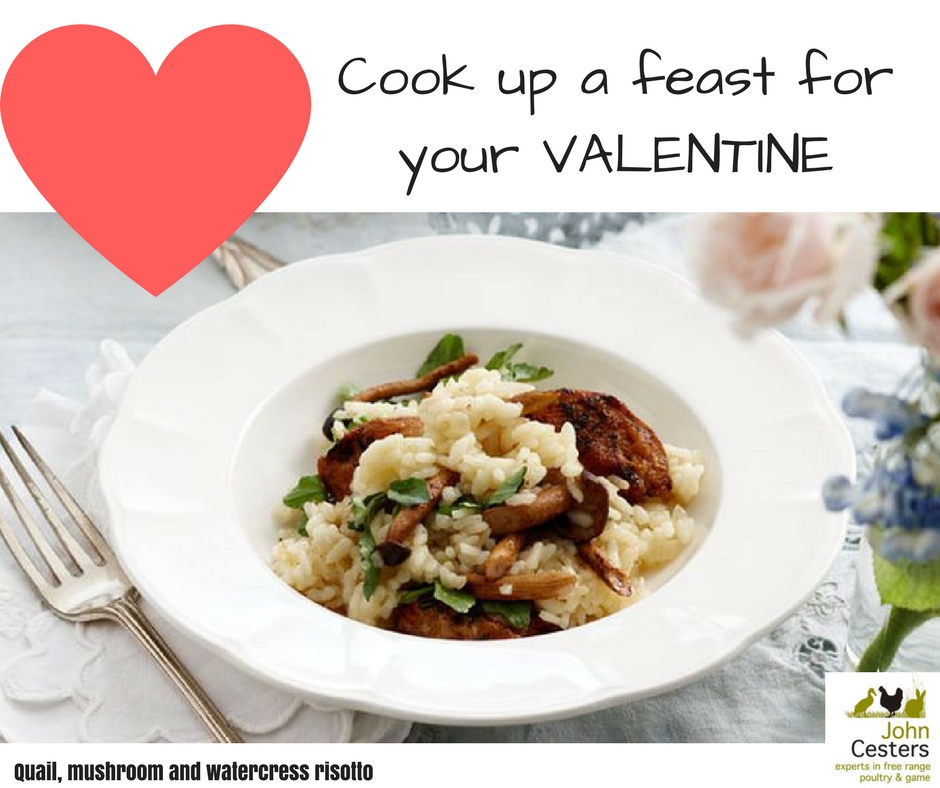 Difficulty not too difficult 
Cooking time less than 60 minutes
Serves serves 2
INGREDIENTS
extra-virgin olive oil, 1 tablespoon
eschalots, 2, finely diced
Arborio rice, 1 cup
dry white wine, ¼ cup
butter, 20g, plus 20g extra
thyme, chopped, 2 teaspoons
chestnut mushrooms, 150g, trimmed
mozzarella, ¼ cup, finely chopped
watercress, trimmed, ½ cup
METHOD
Pour stock into a medium saucepan and bring to a slow simmer on low.
Heat oil in a large, heavy-based saucepan on medium. Saute eschalots for 3-4 minutes, until tender. Add rice and cook, stirring, 1 minute.
Pour wine into pan with rice and cook, stirring, 1 minute, until absorbed. Then add hot stock, one ladle at a time, stirring until all liquid has been absorbed before adding the next ladle. This will take 15-20 minutes. Rice should be tender, with a slight bite.
Meanwhile, melt butter in a large frying pan on high. Sprinkle quail with thyme and season to taste. Add to pan, skin side down, and cook 1-2 minutes, until crisp and golden. Turn and cook a further 1 minute. Remove from pan and cover with foil to keep warm.
Add mushrooms to same frying pan and saute 2-3 minutes, until tender and golden. Season to taste.
Remove rice from heat. Stir extra butter and cheese through. Season to taste. Cover with lid 2 minutes. Stir quail, mushrooms and watercress through. Serve hot.
Best Enjoyed with a Rich Pinot Noir!